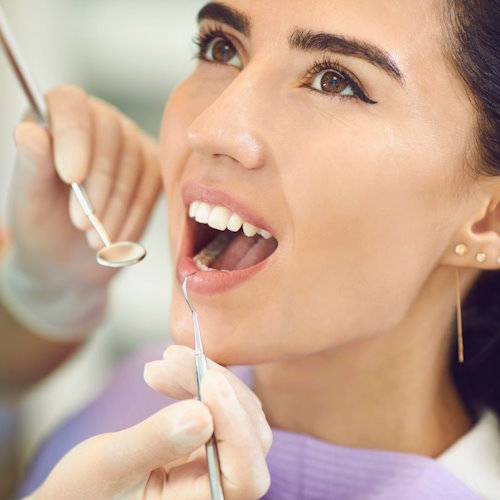 At Blue Quill Dental Centre in Edmonton, we understand dental cleanings' importance for optimal oral health. Our team of experienced dental professionals is dedicated to providing affordable dental cleanings that will improve oral health and leave you with a bright, healthy smile.
Dental cleanings are a crucial part of preventive dental care. They involve the removal of plaque and tartar buildup from your teeth and gums, which can lead to tooth decay, gum disease, and other oral health issues if left untreated. Regular dental cleanings can help prevent these problems and keep your teeth and gums healthy.
During a dental cleaning appointment at Blue Quill Dental Centre, our hygienists will use specialized tools to remove plaque and tartar from your teeth gently. They will also thoroughly examine your mouth to check for any signs of dental problems. This includes checking for cavities, gum disease, and oral cancer.
When you come in for a dental cleaning, you can expect a comfortable and relaxing experience. Our friendly staff will ensure that you feel at ease throughout the appointment. We will also answer any questions about the cleaning process or your oral health.
The frequency at which dental cleanings should be done depends on your needs. In general, it is recommended to have a dental cleaning every three to six months. However, some individuals may require more frequent cleanings, especially if they have a history of gum disease or other dental issues.
Not getting regular dental cleanings can have potential risks to your oral health. Plaque and tartar buildup can lead to tooth decay, gum disease, and bad breath. It can also increase your risk of developing more serious dental problems like tooth loss. By getting regular dental cleanings, you can prevent these issues and maintain a healthy smile.
If you are looking for a reliable dental professional for your dental cleaning needs in Edmonton, look no further than Blue Quill Dental Centre. Our experienced dentists and hygienists are committed to providing high-quality dental care in a comfortable and welcoming environment.
A Comprehensive Lineup of Dental Care Services All Under One Roof